ARCHITECTURAL WALL PANELS

EIP HFW Hidden-Fix Wall (Architectural)
The HFW is an architectural wall panel, with a hidden-fix joint system. This system conceals the fasteners used to install the panels, providing a smooth, aesthetic look to the building's façade. It can be installed horizontally or vertically on any building with positive internal temperatures.
The top choice of architects, HFW panels can easily be cut and modified to satisfy different needs without sacrificing the beauty of the façade.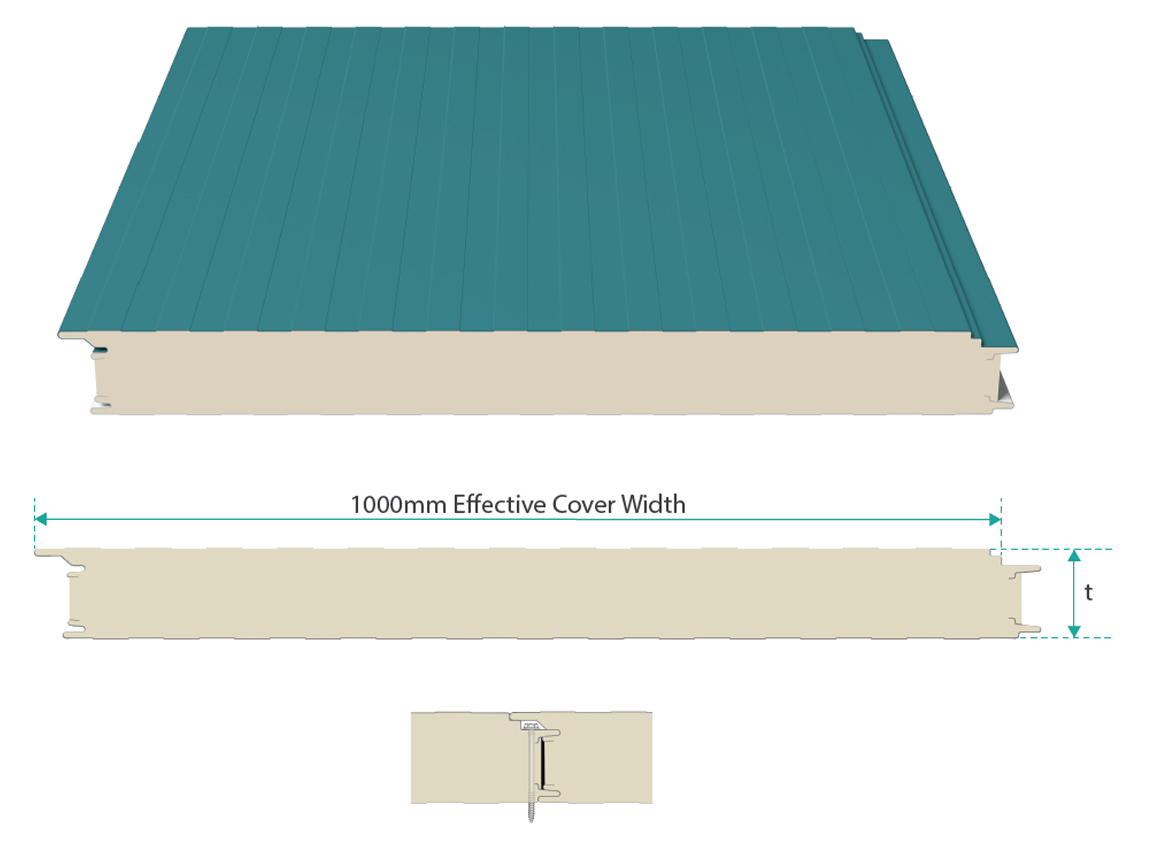 HFW panels minimum length is 2.00m and maximum length is 18.00m
Care must be shown while selecting longer lengths for HFW panels. Mishandling during unloading and installation can cause damage. Consult EIP technical department for guidance.
| t: Core Thickness (mm) | 50 | 75 | 100 |
| --- | --- | --- | --- |
| Weight - Steel (kg/m2)1 | 10.30 | 11.60 | 12.60 |
| Weight - Aluminum (kg/m2)2 | 5.50 | 6.60 | 7.60 |
| U value - PIR (W/m2K)3 | 0.42 | 0.28 | 0.21 |
| U value - PUR (W/m2K)3 | 0.46 | 0.30 | 0.23 |
1 Based on 0.50mm thick facers
2Based on 0.70mm thick outer and 0.50mm thick inner facers
3As per foam laboratory values
*Consult factory for improved values with different foam systems
Insulation Core
The core of EIP panels is an environmentally sustainable rigid PUR/PIR insulation foam.
available in,
FM Approved Fire-Resistant Polyisocyanurate (PIR) foam
Flame retardant (PUR or PIR) B2 class
Polyurethane (PUR) B3 class
having properties as,
Density : 40 ± 3 kg/m3
Thermal Conductivity : λPUR = 0.023 W/mK1 & λPIR =0.021 W/mK1
> 90% Closed Cell content
The blowing agent used in EIP panels is environmentally friendly pentane gas with Zero Ozone Depletion Potential (ODP) and Low Global Warming Potential (GWP). It does not contain CFC or HCFC.
1 As per foam supplier's laboratory values.
Metal Facers

The standard substrate for Internal and external facers are prepainted and hot-dip galvanised steel to BS EN 10143 standard.
Thickness : 0.50mm
Steel Grade : DX51D
Zinc Coating : Z275 or Z200
Top coat : Polyester, PES, 25microns thick
Colour : RAL9002 Off-White
Surface Protection : Polyethylene film
Variations are possible in the surface material specifications to suite a wide range of specialized applications:
Thickness Options : 0.40mm to 0.80mm
Substrate Options : Aluzinc-coated steel, Stainless steel (SS 304 or 316), Aluminum
Top Coat Options : PVDF, Multi-Layer PVDF, High Durable Polyester, Food Safe, Plastisol, PolyDura
Colour : Any colour from RAL catalogue
Surface Profiles
TRP 40/333 & TRP 45/150 panels have 40/333 corrugated and 45/150 corrugated profiles on the external side respectively and as standard Low Rib profile on the internal side.
HFW & TFW panels have as standard Low Rib profile on both sides.
Alternative profile options such as Micro Liming, Micro Wave, Groove & Flat are available for the internal side of TRP panels and either side of HFW & TFW panels.