Delivery, Handling & Storage
EIP understands the importance of having the necessary materials delivered to the project site, in accordance with the project time frame. We are able to arrange the delivery of insulated panels and accessories using the correct packaging and transportation systems.
Panels arrive at customer premises packed in bundles. Each bundle or "palette" will contain a number of panels wrapped together with transparent polyethylene film and supported at the bottom with sufficient number of polystyrene blocks. Each panel itself will have protective film on the surface to prevent scratches.

Each transport vehicle can take four rows of panels with differing panel counts in each bundle depending on panel types. Land and sea freight vehicle capacities are different due to dimensions of the vehicles.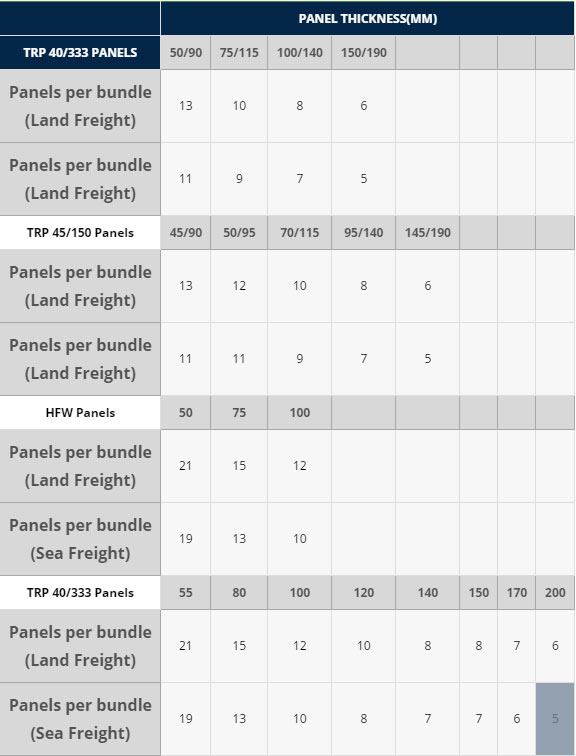 Panel Thickness (mm)
TRP 40/333 Panels
50/90
75/115
100/140
150/190
Panels per bundle
(Land Freight)
13
10
8
6
Panels per bundle
(Land Freight)
11
9
7
5
TRP 45/150 Panels
45/90
50/95
70/115
95/140
145/190
Panels per bundle
(Land Freight)
13
12
10
8
6
Panels per bundle
(Land Freight)
11
11
9
7
5
HFW Panels
50
75
100
Panels per bundle
(Land Freight)
21
15
12
Panels per bundle
(Sea Freight)
19
13
10
TRP 40/333 Panels
55
80
100
120
140
150
170
200
Panels per bundle
(Land Freight)
21
15
12
10
8
8
7
6
Panels per bundle
(Sea Freight)
19
13
10
8
7
7
6
5
---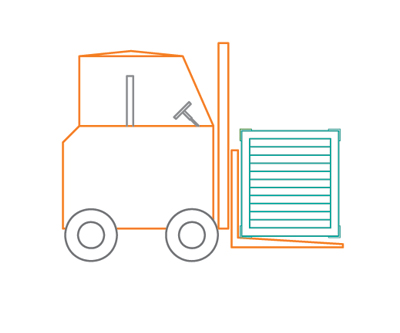 Special Packaging
Certain destinations may require special packing. We can create reinforced packing using extra wrappings, timber elements or crates upon request.
Additional charges apply.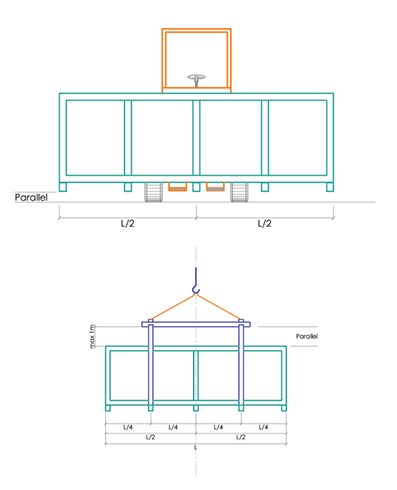 Handling
Panel stacks are carefully loaded and strapped at factory to ensure EIP clients receive their goods in optimum condition. In order to maintain the panel quality in top condition, it is critical to pay special attention to correctly handling the panels while unloading/moving.
When receiving goods at the site, clients are requested to carefully inspect the panel stacks prior to unloading and to report visible damages on receipt of goods immediately.
All EIP panel bundles have "Handling, Transport and Storage Instructions" sheets on them. Please read carefully and abide by the instructions given therein.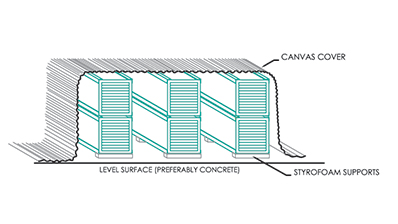 Unloading at Site
Extreme care is advised when unloading the panels at site. A forklift or a crane equipped with a spreader beam must be used to avoid pressure on the edges of the panels which can damage the joints as well as create waviness on panel surface.
Storage
The panels should be stored in a covered area, on a clean and flat surface, with no more than two bundles on top of each other. In case no covered area is available, panels should be stored on a clean and flat surface outside, and covered with a cloth to protect from dust and rain but allow for air circulation under the cover. When stored outside, panels should be placed on a slightly inclined surface to avoid water accumulation. Panels should be kept away from sources of fire risk at all times.
Protective Film
Under normal procedure, panels must be installed soon after they are received at the site and prolonged storage times should be avoided. The surface protection film should normally be removed from the surface of panels after installation.
In case panels are not installed immediately and are kept in packed condition for extended period, the protective foil may be detrimental to the surface quality of the panels and will need to be removed. Please contact EIP for instructions if you are faced with such a situation.